AARP/CarFit
AARP/CarFit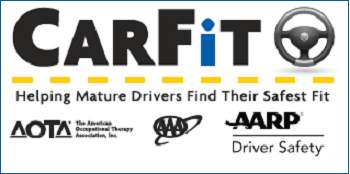 AARP WILL NOT BE HOLDING ANY COURSES UNTIL FURTHER NOTICE.
Developed by AAA, AARP and the American Occupational Therapy Association (AOTA) partnership, CarFit's trained professionals take older drivers through a 12-point checklist with their vehicle, recommending minor adjustments that make their cars "fit" better for comfort and safety. The CarFit event will provide information to seniors on how to maintain and strengthen driving health.
LOCATION: FIRE STATION #5, 1414 Newport Ave, Janesville, WI
TIME: N/A
DATES: N/A
Reservations are encouraged but not required.
Cars will be "fit" or go through the 12-point checklist every half-hour. Call Mobility Management at 608-757-5408 to reserve your time.