Elder Benefit Specialist
Benefit Specialist Program for Rock County Seniors
2020 Medicare Open Enrollment Documents
2. 2021 AEP Worksheet (Word format)
3. 2021 AEP Worksheet (PDF format)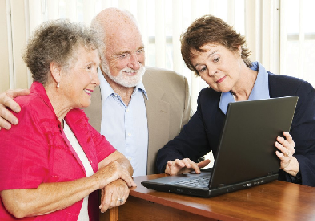 Outreach Schedule

How do I reach an Elder Benefit Specialist?
Seniors who reside in Rock County can call us at 608-757-5414.
Some questions can be answered over the phone.
Office appointments can be scheduled.
Benefit Specialists maintain scheduled hours at various sites around the County.
If homebound, arrangements can be made for a home visit.

What is a Benefit Specialist?
A Benefit Specialist is a local service provider who assists older persons in gaining access to benefits, entitlements, and legal rights.
We work with county residents 60 years of age and older, regardless of financial status.

Who should use this service?
Anyone 60 years of age or older who has a problem securing, or wants to know more about, a public or private benefit.
Older persons who need help in organizing the paperwork when applying for benefits.
Older persons who were denied a benefit they think they are entitled to receive.

How can a Benefit Specialist help?
Provide accurate and current information on your benefits.
Suggest alternative actions that you can take yourself to secure benefits or appeal denials of benefits.
Advocate on your behalf with the other parties involved.
Explain what legal action or other possible solution is required.
Refer you to an appropriate attorney.

Benefit Specialists can help with the following:
Medicare
Medicare Supplemental Insurance
Supplemental Security Income (SSI)
Social Security
Medical Assistance
Consumer Problems
Age Discrimination in Employment
Homestead Tax Credit
Housing Problems
Supportive Home Services
Food Stamps
Veteran's Administration Benefits
Other Legal and Benefit Problems

How much does it cost?
There is no charge for this service. The program is supported with funds from the State of Wisconsin and the federal Older Americans Act. People assisted by the program are encouraged to make a donation toward the cost of the service. All donated funds will be used to expand these services. Service will not be refused or limited in any way if a contribution is not made.

What about confidentiality?
All files and correspondence are kept locked, and your conversations will remain confidential. You may be asked to sign a release of information so we can advocate on your behalf.

About The Program
The purpose of the Rock County Benefit Specialist Program is to promote and preserve the self-sufficiency, dignity, independence and financial security of older persons. Benefit Specialists are provided in-depth, on-going training and assistance in the areas of benefit and entitlement programs, as well as other legal issues. The program is a federal and state mandated advocacy program, funded through the Older Americans Act and State dollars.