Silver Alert / Project Lifesaver
For loved ones who may have a history of wandering due to a cognitive impairment, these programs exist to help keep them safe and/or to help locate them if they do become lost.
Wisconsin Silver Alert Program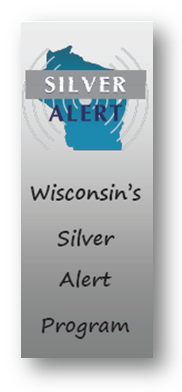 The State of Wisconsin is pleased to announce an important new resource effective August 1, 2014, to protect Wisconsin seniors – the statewide Silver Alert program. Similar to an Amber Alert, Silver Alerts will go out by email, text message, or fax through the Wisconsin Crime Alert Network to notify the public that an adult with Alzheimer's, dementia, or other permanent cognitive impairment is missing. Anyone may subscribe online here to receive Silver Alerts and Crime Alerts for free by email, text or fax.
According to the Alzheimer's & Dementia Alliance of Wisconsin, at least 116,000 people with dementia reside in Wisconsin, and approximately 60 percent will wander at some point as their condition progresses. In Green Bay this past April, Governor Scott Walker signed Assembly Bill 710, creating the Silver Alert program. The bipartisan legislation was sparked, in part, by the experience of Claire Baeb, who was diagnosed with dementia, and her late husband, Leo. The couple from Green Bay got lost in June of 2013 while en route to see family but were located more than 24 hours later after having traveled several hundred miles.
(Source: http://www.wisconsincrimealert.gov/silveralert)
Project Lifesaver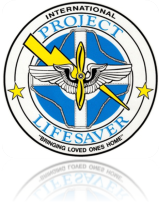 The Rock County Sheriff's Office implemented the Project Lifesaver Program in 2010. The primary mission of Project Lifesaver is to provide timely response to save lives and reduce potential injury for adults and children have Alzheimer's, Autism, and any other circumstances that people may have that creates a danger of them wandering off. The task of searching for wandering or lost individuals with Alzheimer's, Autism, Down Syndrome, Dementia or other cognitive conditions is a growing and serious responsibility.
Citizens enrolled in Project Lifesaver wear a small personal transmitter around the wrist or ankle that emits an individualized tracking signal. If an enrolled client goes missing, the caregiver notifies the Rock County Dispatch Center, and a trained emergency response team responds to the wanderer's area. Most who wander are found within a few miles from home, and search times have been reduced from hours and days to minutes. Recovery times for Project Lifesaver clients average 30 minutes — 95% less time than standard operations. To date, twenty-one participants ranging in age from 6 to 88 have been enrolled in Rock County's Program.
For more information please visit www.projectlifesaver.org.